On this day, Eden Hazard, one of the greatest legends in Premier League history, bids farewell to professional football at just 32 years old.
The end of his career wasn't as we had hoped, but here we will highlight his journey, which cemented him as one of the greats of football.
Childhood and Early Football Steps
Eden Michael Hazard, or simply Hazard, was born in La Louvière, Belgium, on January 7, 1991.
He is the eldest son of Caterine and Thiery, who, in addition to Eden, had three other children.
From an early age, young Eden developed a strong sense of responsibility, always taking care of his younger siblings.
Watching Real Madrid and the French national team's games, which became champions in the 1998 World Cup, the Hazards had a common idol: Zinedine Zidane.
Hazard's first steps in football were with his hometown team. In 1995, at the age of just four, he began what would be his profession, at least until the age of 32.
He stayed with Royal Stade Brainois until 2005 when he moved to Tubize, where he played for two years.
It was while playing for Tubize that a scout from Lille, France, saw Hazard for the first time. Playing in a local tournament, he was discovered and introduced to European football, as the French didn't hesitate to sign a three-year contract with the newly found gem.
For his development and complete polishing, Hazard spent two years in Lille's youth categories.
It's also important to note the expectations surrounding the player, as he had been called up to the Belgian youth national team since the under-15 level.
Thus, on 24/11/2007, he made his debut in professional football. He played for 12 minutes in the 2-0 away defeat against Nancy.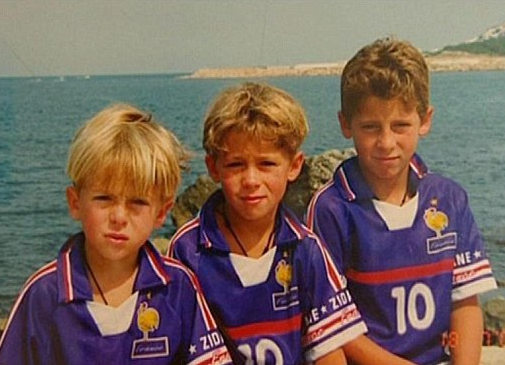 Image: Reproduction Twitter
Eden Hazard's Career
Lille
At Lille, Hazard was a player who was carefully nurtured.
Fearful of thrusting him into the professional setup and not allowing him to develop the talent that everyone at the club knew the Belgian possessed, he was gradually integrated into the squad to ease the pressure on the young talent.
In this way, in his first season as a professional, he played in only four games, totaling just 33 minutes on the field.
But in the following season, 2008/09, Hazard's role within Lille began to change.
Always a threat when playing on the wing, Eden began to be used more frequently in matches, whether starting on the bench and coming on during the game or as a starter.
As a result, he made 35 appearances in the season, scoring 6 goals and providing 3 assists.
Hazard's strong performances in the 2008/09 season provided him with the opportunity to become a regular starter in the team in 2009/10.
From then on, he was already known to all French football fans and attracted interest from top European clubs.
As mentioned earlier, the gradual integration of the young talent is evidenced by the numbers. In the 2009/10 season, he played in 52 matches, with 10 goals and 11 assists to his name.
The pinnacle of his time in France came in the 2010/11 season.
As if his absolutely spectacular performances weren't enough, he, along with his teammates, elevated Lille to new heights.
The investment made in a young player from a tiny Belgian town bore fruit five years later.
Lille hadn't won Ligue 1 since the 1953/54 season. It was with Hazard that the French team could finally shout "champion" 57 years later.
Not only that, they also won the French Cup, a title that had eluded them for 56 years.
Hazard's impact in France was profound. His performances were surgical, scoring 12 goals and providing 13 assists in 54 games.
He played one more season for Lille, scoring an incredible 22 goals and providing 19 assists in 49 games. French football had become too small for a player of his caliber, especially after winning the French Player of the Season award in 2010/11 and 2011/12.
The final result of his time in French football was 194 matches, 50 goals, 52 assists, and 2 incredibly important titles for Lille's history.
Therefore, in the summer transfer window of 2012, Eden Hazard flew to the Land of the Queen to join Chelsea.
The fee paid by the Blues was €35 million, which can be considered meager compared to the results he produced.
Image: Goal
Chelsea
Hazard's career at Chelsea is widely known to the general public. It was there that the world truly became aware of this astonishing player's abilities.
Playing on the wings, he displayed extreme intelligence, serving teammates and attacking spaces.
As if that weren't enough, he exuded confidence. Dribbling the ball close to his foot, with supernatural skill and speed, he left opponents in his wake and finished with power and finesse combined.
Proof of this was the legendary goal he scored against Liverpool in 2018:
Ver essa foto no Instagram
At Chelsea, he won titles at every level. From 2012 to 2019, when he bid farewell to the Blues, he added 2 UEFA Europa League titles (2012/13 and 2018/19), 2 Premier League titles (2015/2016 and 2016/17), 1 English League Cup (2015/16), and 1 FA Cup.
Unfortunately, he couldn't be a part of the Champions League-winning teams, but that doesn't diminish Hazard's incredible journey with the club.
In total, he played 352 games, scored 110 goals, and provided 85 assists.
With the status of one of the best players in the world at the time, he decided to move to the biggest club in the world. It was only natural.
However, things didn't go as expected, and Real Madrid ended up making one of the worst investments in recent years, paying €115 million for Eden Hazard.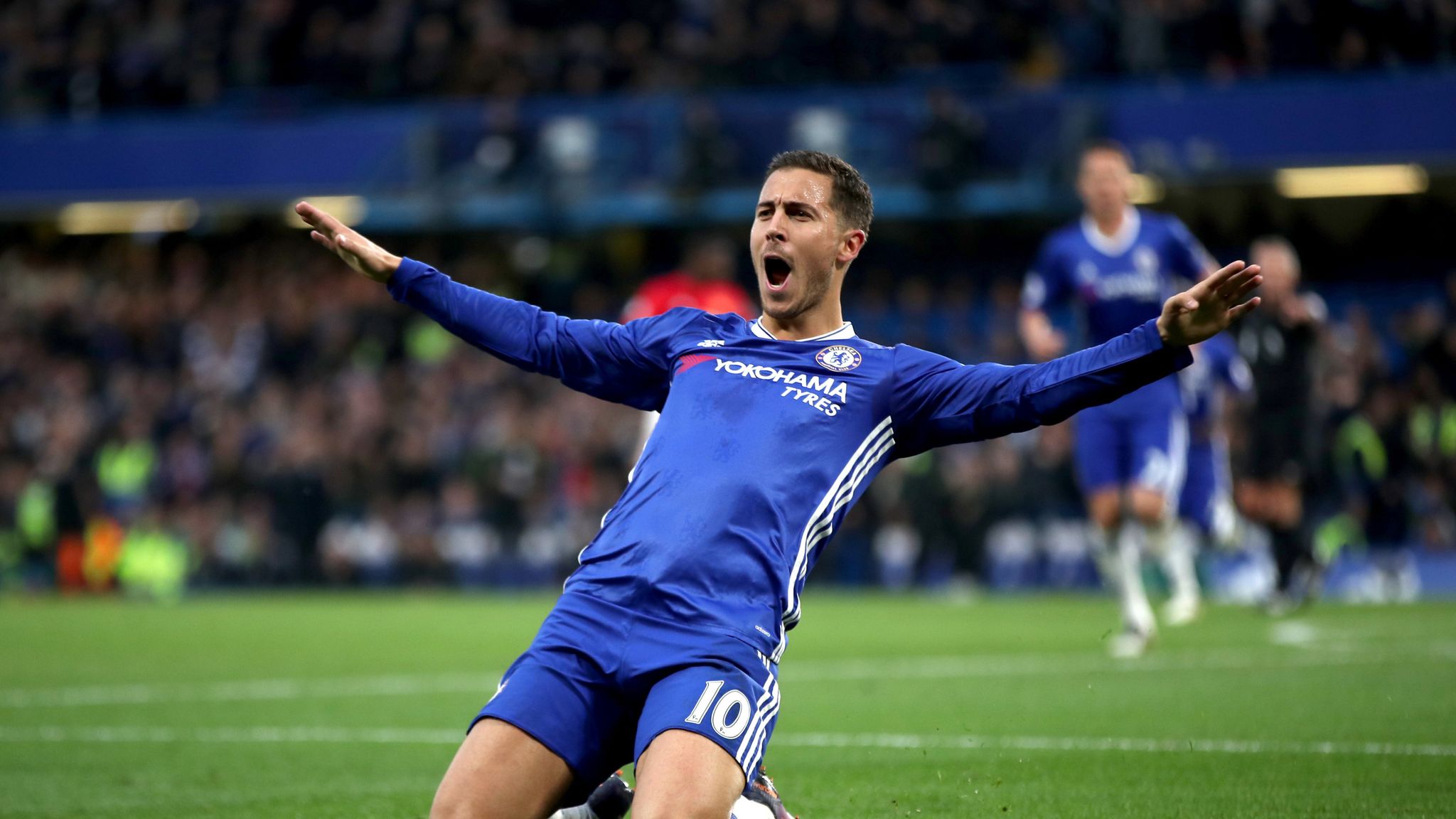 Image: Sky Sports
Real Madrid
The life of a footballer, in many instances, is difficult to understand. Trying to explain it becomes an almost impossible task.
Hazard is one of these cases. Sometimes one of the greatest players on the planet and coming off a great World Cup, something prevented him from developing his football.
Although he was present, the truth is that on the field, Hazard had little relevance in Real Madrid's victories. Whether in the 2021/22 Champions League (a unique title in Hazard's career), the 2 La Liga titles, FIFA Club World Cup, Copa del Rey, or Spanish Super Cup.
When we look at Hazard's injury history, we see that he always maintained impressive physical condition. Thus, there were no records of missed games due to injury while playing for Lille.
During his time at Chelsea, he missed only 26 games between 2012 and 2019, with his longest period away being just 6 games.
After his transfer to Real Madrid, he played only 76 games in 4 seasons.
Due to injury, he missed 95 matches. That is, he was more absent than available.
He even complained on several occasions that he should start playing in midfield since his original position on the right wing demanded physical vigor he no longer possessed.
Image: Punch NG
Belgian National Team
Hazard, as mentioned at the beginning, was a fixture in the Belgian national team since the U-15 level.
This didn't change; he remained an important option from the youth teams to the grandest stage of world football, the World Cup.
He made his debut for the Belgian national team on 19/11/2008, playing for 11 minutes in a friendly draw against Luxembourg.
He scored his first goal three years later, in a 4-1 victory over Kazakhstan in the Euro Qualifiers.
He, along with De Bruyne, Lukaku, Carrasco, Courtois, and many others, were part of the so-called "Golden Generation" of Belgium, considered by all as the best team in the country's history.
Hazard played in two World Cups, reaching the quarter-finals in 2014 and the semi-finals in 2018. Despite good performances, the Belgian national team didn't reach the potential expected by everyone.
Although they didn't achieve what was hoped for, it's worth highlighting that Hazard played a crucial role during this period, participating in 126 games, providing 36 assists, and finding the back of the net 33 times.
Image: Real Madrid
The End of the Journey
With a tired body and no possibility of continuing with Real Madrid, as his contract had come to an end and the Merengues had no intention of renewing it, he found himself without a club for the first time in his career.
From then on, during the European summer transfer window, Eden Hazard was linked to various clubs. Everyone knew of the player's capabilities, which gave hope that he could rediscover his best football.
With the thriving Saudi Arabian market, it was imagined that this would be his destination, just like many other stars of his caliber.
There was even speculation about other European clubs of lower stature, the MLS, and the Brasileirão. However, none of these materialized.
Hazard, along with his staff, gathered and decided not to continue his career. Therefore, on today's date, 10/10/2023, he posted a statement on his Instagram, saying that he must listen to his body and that the time to stop had arrived.
He also thanked the clubs and coaches he had played for, stating that he had fulfilled his childhood dream and had enjoyed the world's football fields.
Here, we believe that Eden's decision was absolutely commendable. The end of a player's career is always very difficult. Many try to postpone this day, which makes the end of their career worse than imagined.
With the name he had, Hazard could have tried to prolong his career at various clubs, but he knew he wouldn't be able to deliver what a team expects when signing a player of his caliber.
In fact, based on his journey, we imagined that the moment of retirement would come at an even higher level, which unfortunately didn't happen.
But we will cherish the goals, dribbles, and titles he achieved in our hearts.
Follow us on social networks to stay updated on the latest foreign football news and exclusives: Instagram, Facebook e Twitter.
Written by Vitor F L Miller.