Confirmed: Neymar Jr.'s Transfer is a Done Deal. The Brazilian star is the latest addition to Saudi Arabia's new bustling football market. The player leaves PSG to join Al-Hilal. Check out the details and opinions on the deal.
How did Neymar get here?
Being Brazilian, I had the opportunity to follow Neymar from the beginning of his career.
Even before playing for the professionals, Neymar already had the status of a star. Even in a world where social media didn't have the power it does today, news about the slender boy circulated throughout the city of Santos.
Santos, who always saw their youth teams as a chance to win titles, found themselves facing this possibility once again.
The generation that won the Brasileirão twice and was the runner-up in the Libertadores with Robinho, Diego, Elano, Renato, and Alex was no longer there.
It was up to Young Neymar to fill this gap. And so, under this pressure, he played his role from the very moment he stepped onto the field. He reached the finals of the Campeonato Paulista in his first season as a professional.
In the following year, 2010, he showcased himself to all of Brazil. São Paulo state champion and Copa do Brasil winner. In the match against Guarani in the Copa do Brasil, he scored an incredible 5 goals in the game that ended 8-1 for Santos. He was the competition's top scorer. He scored in both finals.
In 2011, he raised the bar. Libertadores champion and King of South America. In 2012, Libertadores semifinalist, Recopa champion, and once again King of South America.
Image: AP
Neymar was the only player in history to be part of the top 10 Ballon d'Or contenders while playing outside of Europe.
The next step was Barcelona. There, he piled up titles, goals, assists, and top scorer awards. Playing alongside Messi and Suarez, he floated on the field and dazzled the spectators.
However, not everything was rosy. His career, which seemed on a linear path to becoming the world's greatest player, encountered some setbacks. In the historic "La Remontada" match, Neymar took the ball under his wing and was the main instigator of football's most unlikely comeback.
He scored from a free-kick, a penalty, and provided the final assist for Sergi Roberto's goal, sealing Barça's 6-1 victory over PSG and the qualification.
Despite his historic performance, Messi's face graced the cover of newspapers worldwide. At this moment, Neymar felt that at Barcelona, where Messi was the star king, he couldn't achieve his main goal of being elected the world's best player.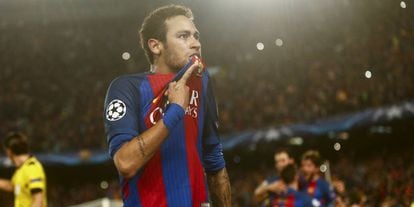 Image: QUIQUE GARCÍA (EFE)
In the following season, the transfer that shocked the world. Neymar moved to PSG for an unprecedented sum of €222 million.
Up until this point, all was fine. Neymar went through seasons of adaptation, alternating between injuries and brilliant moments.
In 2020, already under considerable scrutiny, he achieved a significant feat for PSG: reaching the Champions League final. However, the French team was defeated by Bayern Munich.
In a slightly different Champions League due to Covid-19, the Brazilian ace had historic performances, almost single-handedly pushing PSG to the final.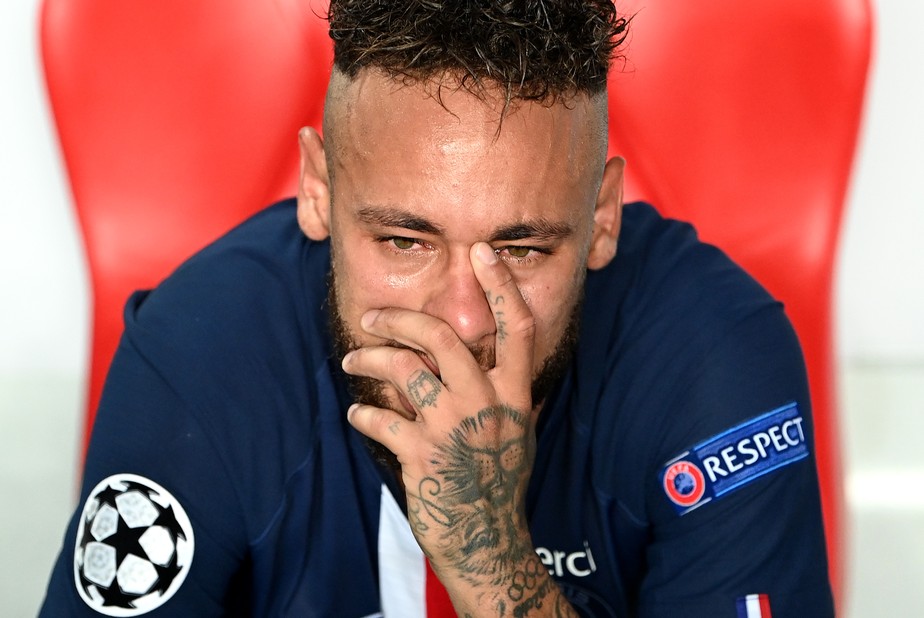 Image: Michael Regan/UEFA via Getty Images
Although he achieved this milestone in the history of the French club, he was constantly targeted by the club's ultras, especially when he showed his unhappiness and requested a return to Barcelona. Since then, a player of Neymar's caliber received more boos than applause while playing in Paris.
The thing is, from Santos to the Champions League final with PSG, Neymar winning a Ballon d'Or seemed just a matter of time. The possibility of Neymar not living up to expectations was never considered.
However, reality was different. Less and less present on the field, the player suffered injuries, particularly to the fifth metatarsal, and his name became negatively associated with the media.
Hence, the title: "What if…". What if Neymar had stayed at Barcelona? What if he had taken better care of his health and acted as a true athlete should? What if he hadn't clashed with PSG's fans?
The truth is that even with all these "what ifs," Neymar's determination to win when on the field was always noticeable. The Copa America final between Brazil and Argentina is proof of that. A memorable game in which the player simply refused to lose a final, especially at home, against the biggest rival.
Even with opponents trying to stop him violently, he kept charging toward Dibu Martínez's goal with determination.
Despite all the parties and negative headlines, when he stepped onto the field, he showed his determination to win.
However, it seems that this drive has faded. There's no more gas left. The impression left is that the eternal Young Ney got tired. The life of a celebrity took precedence.
Constant injuries and a strained relationship with the fans, combined with PSG's attempts to renew their squad, cornered Neymar.
PSG wouldn't release the player without compensation. Thus, the European market proved closed for Neymar. Which team would spend around €100 million to acquire a 31-year-old player who plays only half of the team's games due to frequent injuries? The answer is simple and demonstrated by the transfer market: none.
The only remaining option was Saudi Arabia's new insane market. Neymar, seemingly reluctantly, joins Al-Hilal. Check out the transaction details.
Transfer details
A few weeks ago, as negotiations between Neymar, his father, and Al-Hilal were unfolding, various potential figures were mentioned.
Initially, it was believed that Al-Hilal would pay around €90 million to PSG, and Neymar's annual earnings would be around €80 million.
In parallel, there was media speculation about the possibility of Neymar returning to Barcelona, potentially giving up a substantial portion of his salary to join the Blaugrana squad.
However, Barcelona's financial difficulty, the need to comply with La Liga's financial fair play rules, and PSG's requirement for compensation made the deal impossible.
As a result, the least desired option for Neymar and his team remained. Joining Cristiano Ronaldo, Benzema, Mané, Kanté, and many others on the way to Saudi Arabia.
Al-Hilal's final offer that secured Neymar's arrival was a staggering amount of €80 million, which could increase to €100 million in bonuses if unspecified targets are met.
Now, the salary. According to L'Équipe, Neymar will sign a 2-year contract, receiving a total of €320 million for this period. Yes, that's the amount. To be precise, it's €160 million per year, €13.3 million per month, €444,400 per day, €18,500 per hour, and so on.
Santos, on the other hand, should receive €3.5 million from the transfer due to FIFA's solidarity mechanism, which benefits the training club.
What about you? What do you think of Neymar's career trajectory? What were your expectations? Comment!
Image: Clutchpoints
Follow us on social networks to stay updated on the latest transfer market news: Instagram, Facebook e Twitter.
Written by Vitor F L Miller.