Olimpia vs. Fluminense faced off in the quarterfinals of the Copa Libertadores. The Carioca Tricolor won convincingly with a score of 3-1, adding to their 2-0 victory at Maracanã, making it an aggregate score of 5-1 in favor of the Brazilians.
Fluminense returns to the Libertadores semifinals after 15 years.
The Teams' Paths
Fluminense had to face their biggest rival's tormentor. In the round of 16, Olimpia played against Flamengo. In the first leg, they lost 1-0 at Maracanã, leaving the tie open for a reversal at the legendary Defensores del Chaco.
And that's exactly what happened. Olimpia used aerial plays effectively, defeating Flamengo 3-1 in the return leg to advance to the quarterfinals.
Fluminense, on the other hand, faced Argentinos Juniors. The first leg ended 1-1 in Argentina. In Maracanã, Fluminense won 2-0 comfortably.
In the Brazilian press, there was much talk about what Fluminense and Brazilian national team coach Fernando Diniz could do to counter Olimpia's aerial threat, which had been the main weapon against Flamengo.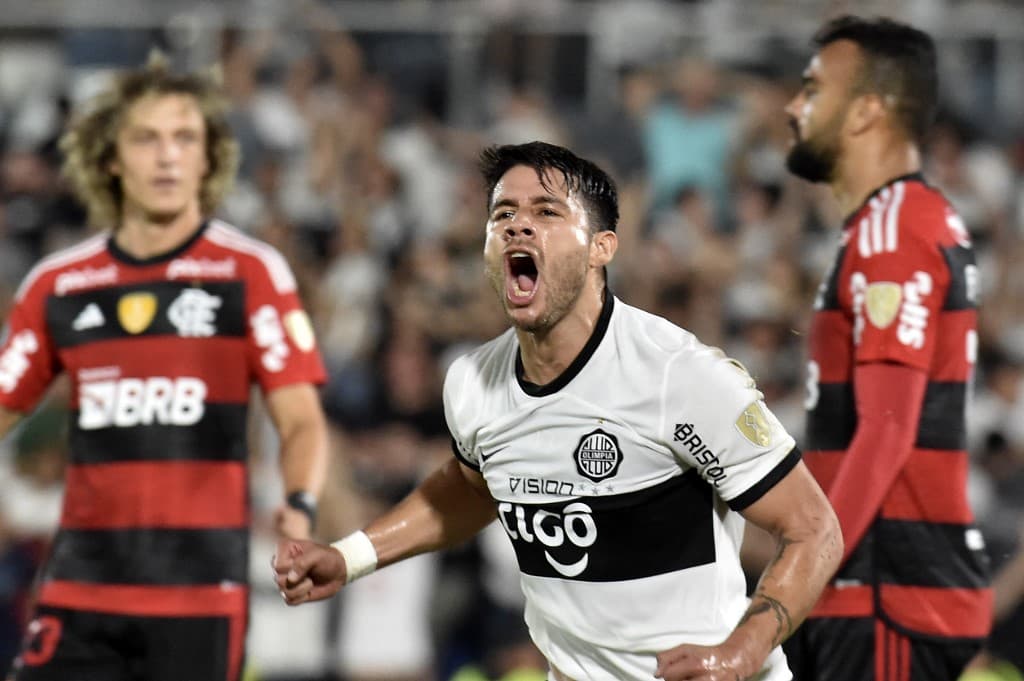 Image: NORBERTO DUARTE / AFP
In the first leg, there was no option. Fluminense went on the attack, leaving little to no chance for the Paraguayans. They had 18 shots compared to Olimpia's 4, with 6 of them being on target compared to Olimpia's 0.
Fluminense controlled the game throughout, with 70% of possession, reflecting Diniz's trademark style.
However, Olimpia's tradition in the Libertadores was well-known. So, even with a 2-0 lead, there was a sense of uncertainty heading into the return leg.
Both teams met again in the second leg. Fluminense had the advantage, and Olimpia had their tradition and 80,000 supporters at the Defensores del Chaco.
The Second Leg – Olimpia vs. Fluminense
Na escalação, surpresa de todos por não haver surpresas. Fernando Diniz repetiu a mesma formação e os 11 titulares que venceram a partida de ida.
Tendo a vantagem de 2×0 e sabendo da força da bola aérea do Olimpia, imaginava-se que Diniz tentaria se proteger, colocando mais jogadores de marcação, sobretudo aqueles que possuem uma maior estatura.
No início do jogo, o Olimpia teve duas boas chances. Sim, da maneira que já foi adiantada aqui. Em duas cobranças de escanteio, Fábio fez duas grandes defesas.
A partir daí, o plano de Fernando Diniz deu certo. O Fluminense se valeu do toque de bola para segurar sua vantagem. Mesmo fora de casa, teve uma posse superior ao Olimpia.
Assim, aos 24 minutos, Keno acha passe em profundidade, que encontra um dos nomes do jogo, o jovem John Kennedy, que carrega e chuta forte no alto para fazer 1×0 para o Fluzão.
Imagem: Marcelo Gonçalves/Fluminense FC
However, the game still held plenty of excitement. Towards the end of the first half, Olimpia continued to rely on crosses, creating danger. So, when Zabala received the ball on the left side of Fluminense's penalty area, he initially looked set to cross but cut inside instead. Samuel Xavier turned his back and lost his marker completely, leaving Zabala with space to shoot, which he did. The ball deflected off Nino and thwarted Fábio's chances of saving it.
Olimpia equalized at the 44th minute and had more opportunities to take the lead in the first half. The end of the first half favored Fluminense, allowing them to go to the dressing room and cool down the heated atmosphere at the stadium.
In the second half, Olimpia tried to pressure high, but Fernando Diniz's Fluminense showed one of its greatest strengths: the ability to work the ball in tight spaces.
In one of these attempts to press high, Fluminense would often take just 3 or 4 touches and find themselves bearing down on goal, but Cardozo fouled a Fluminense player during one such counter-attack, received his second yellow card, and was sent off.
After the red card, spaces became even more frequent. Olimpia simply lacked a midfield presence. The end was inevitable, and it fell to the sharpshooter.
At the 80th minute, John Kennedy made a great play and hit the post, but the rebound fell to Cano, who made it 2-1. In injury time, Cano had another chance and didn't miss. 3-1 Fluminense.
Fluminense reaches the semifinals after 15 years.
Image: Marcelo Gonçalves/Fluminense FC
The Libertadores Semifinals
Once again, we highlight Brazilian dominance in the Libertadores. There will be a Brazilian team in the final, a trend that has continued since 2019. Since 2019, only Brazilian teams have been champions.
Of course, we cannot underestimate Boca Juniors, one of the greatest teams in the world, but most likely, the 2023 Libertadores title will remain in Brazil.
Fluminense vs. Internacional (First leg at Maracanã and second leg at Beira-Rio)
Boca Juniors vs. Palmeiras (First leg at La Bombonera and second leg at Allianz Parque).
Follow us on social networks to stay updated on the latest foreign football news and exclusives: Instagram, Facebook e Twitter.
Written by Vitor F L Miller.