Get to know what Penalidade Máxima (literal translation – Operation Maximum Penalty) is and what it investigates in Brazil. Currently, the possible manipulation of games in state championships and even in the Brazilian Serie A is being investigated. Check it out!
Betting in Brazil
Betting has always been part of the daily life of the Brazilian people. In the 1930s, then-President Getúlio Vargas brought entertainment venues, such as casinos, to Brazil, for example. In a short time, betting in these environments became extremely popular, but was suddenly banned in 1946.
Eurico Dutra, the president of the time, had a political line that was exclusively focused on meeting American interests. Thus, to signal that Brazil was a country of strong values, as well as not to rival the emerging US entertainment industry, he banned all gambling through a decree.
In this way, only in 1961 were gambling legalized by the Union, being the responsibility of the federal lottery and regulated by the state.
Of course, many clandestine operations persisted and still persist when it comes to gambling. However, we are here to report on sports betting, especially football.
In 2018, President Michel Temer endorsed Law No. 13,756, which regulates sports betting, provided they have a fixed quota. That is, those that present the "odds" (multiplier coefficient of the bet), before the bet is placed.
So, it is important to emphasize that such companies that wish to operate in this segment must be based in countries where the existence of betting houses is completely legalized, that is, outside Brazilian territory.
From 2018 to the present day, this practice has become a fever among Brazilians. Betting houses reach very significant numbers of customers, generating absurd profits for themselves, but not only that. It created a way of life for a group of people.
Therefore, ramifications of market originated from sports betting were created. Today, when turning on a Brazilian sports channel, you will notice that the vast majority of advertisements are for betting houses. Some of the largest clubs in Brazil such as Santos, Fluminense, São Paulo, Vasco da Gama, Bahia, Atlético Mineiro and others, feature betting houses on their jerseys.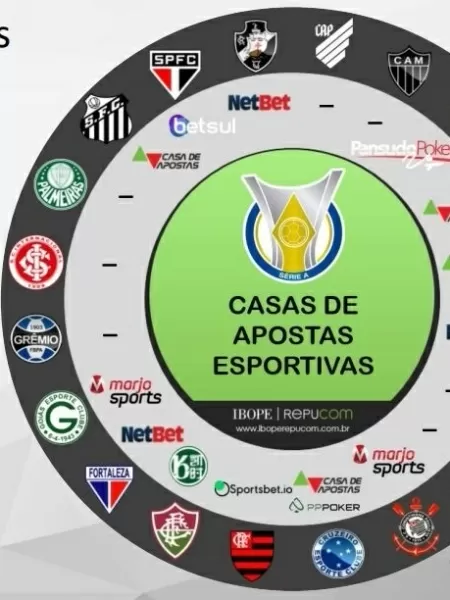 We can also observe, in a brief internet surf, the existence of courses, tips and so many other ways to succeed in this area.
Therefore, it was to be expected that a newly created market, with little or no regulation, would generate a series of uncertainties and incidents.
The Whistle Mafia, 2005
Match-fixing schemes are not new in Brazil. In 2005, journalist André Rizek denounced a corruption scheme involving bettors and referees.
Note that in 2005 sports betting was totally criminalized in Brazil, which is why there were no legally operating betting houses. But this was not an impediment for a scheme to be formed between underground bettors and football referees.
At that time, former referee Edilson Pereira de Carvalho was arrested, being just one of the unfolding of the operation. It was agreed that the games refereed by the referees under investigation should be played again. Consequently, Corinthians, who would finish one point behind Internacional and be runner-up, managed to win the rescheduled games and was crowned champion that year.
This was one of the most controversial events in the history of Brazilian sports. Also because the game between Corinthians and Internacional that decided the championship had one of the most doubtful refereeing ever seen and the game ended 1×1. Consequently, this championship was considered by many to be "tainted".
If such a big mess already occurred with completely prohibited betting houses, imagine the fertile ground found now
Operation Maximum Penalty
The Maximum Penalty Operation was divided into two parts. The first one began in February 2023 and investigated only games from the 2022 Serie B.
The player Romário, from Vila Nova de Goiás, allegedly admitted to being approached by a group attempting to lure him into the criminal scheme. Therefore, investigations and judicial procedures were initiated by the state of Goiás, led by the Special Group for Combating Organized Crime (Gaeco), the Institutional Security and Intelligence Coordination (CSI), as well as the Goiás Public Prosecutor's Office (MPGO).
The investigations progressed and the authorities concluded that it appears to be a national scheme, which is why preventive arrest and search and seizure warrants were issued in 6 states of the federation, initiating the second phase of the operation.
So far, it has been revealed that the alleged scheme would have affected not only the 2022 Serie B games but also the 2023 Serie A and state championships, namely:
Santos x Avaí
Bragantino x América-MG
Goias x Juventude
Cuiabá x Palmeiras
Santos x Botafogo
Palmeiras x Juventude
In addition, the players who are involved and under investigation are Eduardo Bauermann (Santos), Kevin Lomonaco️️️ (Red Bull Bragantino), Victor Ramos (Chapecoense), Igor Cariús (Sport Recife), and Gabriel Tota (Juventude). These players would have received amounts ranging from R$ 50,000 to R$ 100,000 to receive yellow or red cards.
Some of the clubs with allegedly involved players issued official statements on their social media accounts, claiming that they are available to justice for the cases to be clarified as quickly as possible.
Sports, betting, and crime
The Maximum Penalty Operation shows similarities and differences with the 2005 "Apito" Mafia scandal.
Among the differences is the fact that this time, the targets are not the referees but the players. Also, the events to be artificially altered are routine matters in games, such as yellow cards and corner kicks, which do not necessarily affect the outcome of matches and the course of championships, as in 2005.
As a similarity, the problematic relationship between sports, betting, and crime emerges. As in 2005, a group of criminals gathered to try to obtain profits from fraudulent bets, killing the soul of the sport. This has not changed, it only tends to become more frequent.
This is because, as we have seen, it is a multimillion-dollar market, an extremely sensitive area without adequate regulation.
It is a sensitive activity because it involves gambling games and, therefore, stimulates pleasure and satisfaction-generating areas of the brain, which can lead to a strong addiction.
It is an area without proper regulation because since its approval, no special bodies have been created for its monitoring, rules for advertising and distribution, taxation and control of capital flows, or even education and awareness of the dangers of sports betting.
Having listed these issues, we can conclude that sports are slowly dying. Once again, capital at any cost floods a magical environment to turn it into a cog in the wheel of the society model we live in. And it is a silent disease.
The next time a player on your team receives a yellow card in a silly move, what will go through your mind? And all the other yellow cards and conceded corner kicks that we never imagined to be fraud, maybe they were, in fact.
The logic of betting in Brazil today hurts everyone involved in it. Honest customers of betting houses, clubs, players, fans, and sports. Sports in its essence. Sports in the beauty of placing athletes in competition, on equal terms, seeking only one result, victory.
Finally, by seeing the positive side of the issue, Operation Maximum Penalty could be a milestone. It may lead to the regulation of the area, create preventive and restrictive measures for such acts, and firmly punish all involved. However, we will only have the answers in the future.
And you? What is your opinion on this?
Follow us on social networks to stay updated on the latest foreign football news: Instagram, Facebook e Twitter.
Written by Vitor F L Miller.