Paul Pogba, the French player for Juventus, has been temporarily suspended from football. The reason for this suspension is the presence of testosterone metabolites in his anti-doping test.
Let's explore Pogba's career and the path that led him to this point.
Modest beginnings, outstanding performance, and gradual decline
Few people remember, and with good reason, Paul Pogba playing for Manchester United. But not in his last stint. It was with the Red Devils that the French midfielder began his professional career in 2011.
Born in a small town in southern France called Lagny-sur-Marne, which currently has around 20,000 inhabitants, it clearly did not have a market matching the talent of the young player.
He started his youth career at Le Havre, the first professional football club in France. However, this is his only notable achievement, and it was still a modest setting considering what Pogba would achieve and could have achieved in his career.
In 2009, he crossed the English Channel and joined the youth teams of Manchester United.
His professional debut for the English club was in 2011.
It could be said that this was one of the rare mistakes in Sir Alex Ferguson's career. In just one year in the first team, Pogba was used only seven times, often coming on as a substitute.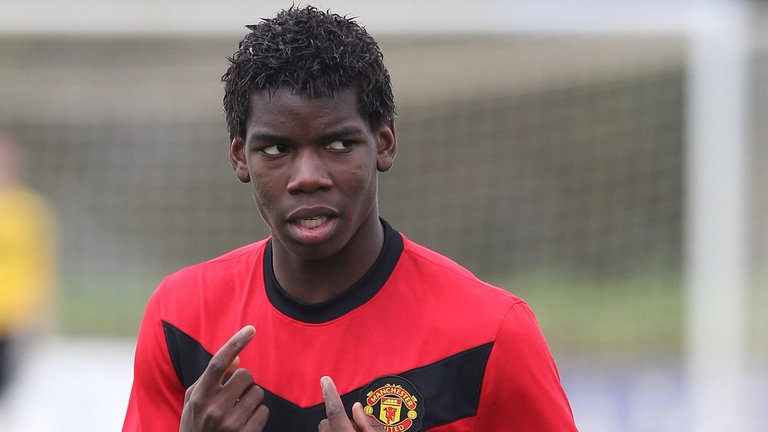 Image: Reproduction X Sky Sports
At the end of his contract, he chose not to renew it, and Juventus became his destination on August 3, 2012.
It's worth noting that Pogba's quality was already being discussed in football circles, and his rise was just a matter of time. He was a regular in the France youth national team since 2008, and any club that could have such a talented young player was fortunate.
His ascent, at the age of 19, was meteoric. He debuted as a starter, fitting perfectly into a team that helped him showcase his best football.
Playing in midfield alongside Marchisio and Vidal, with a solid defense composed of Chiellini, Barzagli, and Bonucci, the young player had the freedom to display his skills.
Standing at 1.91 meters tall, he dictated the pace of Juventus' play. Dribbling in tight spaces, delivering long passes, and striking the ball powerfully from outside the area, he made a significant contribution to Juventus' historic streak of nine consecutive Serie A titles.
Moreover, his outstanding performances earned him the Golden Boy award in 2013. In the same year, he also won the FIFA U-20 World Cup with France.
As if that wasn't enough, Juventus, now under Pirlo's guidance with Pogba in midfield, reached the final of the 2014/15 Champions League, where they would likely have been champions if not for facing one of the greatest teams in history, Barcelona, with Messi, Neymar, and Suárez.
During his first spell at Juventus, Pogba played 178 games and scored 34 goals.
Image: Giuseppe Cacace/AFP/Getty Images
After several successful seasons at Juventus, Pogba was considered one of the best players in the world. Therefore, his name began to circulate among top European clubs.
In 2016, Manchester United realized the mistake they had made by not utilizing such a talented player and bought him for the staggering sum of €105 million, making it one of the most expensive transfers in history.
His arrival at Manchester United was met with great expectations. It was hoped that he could lead the team back to the top of Europe, as the legendary club had not performed well since Sir Alex Ferguson's departure.
It would be an exaggeration to say that he was a disappointment at Manchester United. Under Mourinho's management and alongside Ibrahimovic, they won the Europa League and two EFL Cups.
Although his start was considered good, his subsequent career development did not meet expectations.
Pogba began to suffer constantly from injuries. According to Transfermarkt, he had no recorded injuries before 2015.
From that year onwards, he accumulated injuries, mainly muscle-related. During his time at Manchester United, Paul Pogba was sidelined for an incredible 597 days, missing 117 games between club and French national team due to injuries.
It's important to highlight that during his time at Manchester United, Pogba was essential in helping France win the 2018 World Cup.
With outstanding performances and as a key starter under Deschamps, Les Bleus were crowned champions with a flawless campaign.
Image: FFF
This is a point that should be emphasized because calling the career of a multi-title-winning player and, above all, a World Cup champion, a failure is a gross mistake.
The mentioned injuries and the lack of continuity were signs that Pogba did not renew his contract with Manchester United, opting to return to the place where he had enjoyed the best moments of his career, Juventus.
During his time at the English club, he played 226 games and scored 39 goals.
One could say that Pogba was a terrible deal for United. To lose the player to Juventus for free and then buy him back for a huge sum would already indicate poor management. The icing on the cake was the lack of any financial return on the investment.
Unfortunately, his return to Juventus did not improve the situation. Arriving in August 2022, the midfielder suffered two knee injuries in quick succession. Furthermore, after his recovery, he continued to struggle with muscular injuries, playing only 10 games in a year.
Pogba Fails Anti-Doping Test
Last week, Paul Pogba failed an anti-doping test conducted by the Italian Anti-Doping Agency (NADO).
Ver essa foto no Instagram
Evidence of testosterone metabolites, which are clearly prohibited, was found in his test.
His representative, Rafaella Pimenta, stated that they would await the result of the follow-up test and would focus on the legal process. She also assured that Paul had never intended to break the rules.
As a result, Pogba has been provisionally suspended, with a potential penalty of up to four years of exclusion from all competitions, which could be fatal for a 30-year-old player's career.
It is speculated that the test was conducted during a match against Udinese, a game in which he did not even enter the field.
Before any analysis, it's essential to remember that he is a human being. Imagine achieving stratospheric success at a very young age. Being one of the most expensive transfers in football history. Winning a World Cup with your country. Then, despite still being young, your body does not respond as expected, preventing you from pursuing your profession.
Certainly, it's not easy to deal with.
As if all this weren't enough, he recently reportedly dealt with an extortion scheme in which one of his brothers was allegedly involved.
One hypothesis to consider, if the follow-up test confirms the presence of testosterone metabolites, is the possible desperation of an athlete whose career and personal life are in shambles.
Anabolic hormones play a crucial role in muscle recovery, which Pogba likely struggled with due to numerous injuries in recent years.
Regarding the reasons, it's essential to refrain from making assumptions until there is scientific confirmation of substance use, as well as a candid statement from Pogba regarding the case.
In any case, it is not appropriate to crucify a player, claiming that his career should have followed certain paths, as there are countless variables in the daily life of an athlete.
Here, we wish Pogba good luck and hope that he can return to play as soon as possible, as the absence of a player like him on the field is a loss for football.
What is your opinion on this case? Comment!
Image: Getty Images
Follow us on social networks to stay updated on the latest foreign football news and exclusives: Instagram, Facebook e Twitter.
Written by Vitor F L Miller.