Once again, Ronaldinho Gaúcho is making headlines for negative reasons. This time, the legendary Brazilian footballer is responding to the Parliamentary Commission of Inquiry (CPI) regarding his potential involvement in schemes related to cryptocurrencies.
What is a CPI?
The acronym CPI stands for Parliamentary Commission of Inquiry.
For a better understanding of what this entails and why Ronaldinho Gaúcho was summoned to testify before the parliamentarians, here's an excerpt from the official website of the Brazilian Senate, describing what a CPI is, its objectives, and its powers:
Objective
A CPI is a way for the Parliament to exercise its oversight role. The Constitution and Law 1.579 of 1952 determine that it must only investigate specific facts and have a fixed duration.
Creation
A CPI can be created by senators, deputies, or jointly, forming mixed CPIs. In any case, the request must be signed by one-third of the members of the Houses (27 senators and 171 deputies).
What can a CPI do?
A legislação diz que a CPI tem poder de investigação próprio de autoridades judiciais. Significa dizer que uma comissão de inquérito pode:
The legislation states that a CPI has the power of investigation similar to that of judicial authorities. This means that a commission of inquiry can:Examine witnesses (who are required to tell the truth)
Question suspects (who have the right to remain silent to avoid self-incrimination)
Make arrests (only in cases of flagrant offenses)
Request information and documents from the direct, indirect, or foundational public administration
Take statements from authorities
Request the presence of government ministers
Travel anywhere in the country to conduct investigations and public hearings
Request assistance from employees of other branches of government for investigations
Break bank secrecy, fiscal secrecy, and data secrecy, provided it is duly justified and with the obligation not to disclose the data publicly.
Limitations
A CPI doesn't have the power to judge or punish those under investigation. It doesn't prosecute or judge but investigates specific facts. For instance, it cannot issue precautionary measures such as temporary arrests, freezing of assets, seizure, and confiscation. It also cannot issue search and seizure warrants for homes, seize passports, or order telephone interception (wiretaps), as these require judicial decisions.
Report
The law states that, upon concluding its work, the commission must submit a report with its findings to the Public Prosecutor's Office or the Office of the Attorney General, so they can promote civil and criminal liability of wrongdoers or take other legal actions. The authority receiving the report is obliged to inform the actions taken. The final report can also present legislative proposals.
Source: Agência Senado
Image: Pedro França/Agência Senado
Ronaldinho Gaúcho's Alleged Involvement
We, at Calcio Deal, reported in our previous text about Ronaldinho Gaúcho, in the "Protagonists" section of our website, that the Brazilian star had been accused by a woman of being involved in a financial scam.
Ronaldinho Gaúcho and Assis, his brother and longtime manager throughout his career, were accused by a woman who claimed to have sent money to the company 18kRonaldinho, which promised to manage the funds by investing in Bitcoins, with a promised return of 2%.
However, according to the complainant, the invested amount was locked, and she couldn't make withdrawals.
Additionally, it was reported that the 18kRonaldinho company promised annual returns of over 400%, which clearly didn't materialize. As a result, the company was also reported to the Public Prosecutor's Office of the State of São Paulo.
Image: Vinicius Loures / Câmara dos Deputados
But where does the CPI and Ronaldinho come in?
Brazilian society has been consistently affected by fraudulent schemes, whether through pyramid schemes and promises of exorbitant returns, hacking attacks on social media that redirect users to these agencies, or through betting websites.
The Brazilian Parliament recognized the importance of addressing these harmful actions and conducting thorough investigations.
Ronaldinho Gaúcho didn't attend two sessions but appeared on Thursday. On this occasion, he stated that he's a victim of schemes organized by the company 18k Watches, with whom he allegedly signed a contract to release his image for the marketing of watches.
According to Dinho, the company allegedly used this contract to leverage his image to deceive potential customers into buying cryptocurrencies.
Furthermore, he stated that the mentioned contracts with 18k Watches were terminated in 2019.
We will await further developments to keep you informed.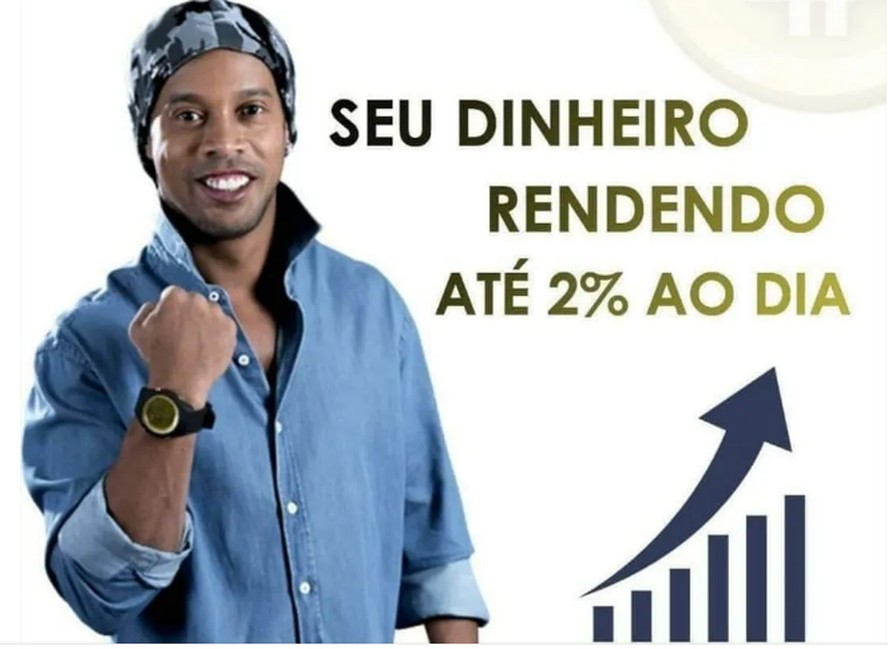 Image: Reprodução
Follow us on social networks to stay updated on the latest foreign football news: Instagram, Facebook e Twitter.
Written by Vitor F L Miller