As the Portuguese coach, Pedro Caixinha, sets up Red Bull Bragantino? Follow us as the 52-year-old coach leads Massa Bruta, currently in 3rd place in the Brazilian Championship.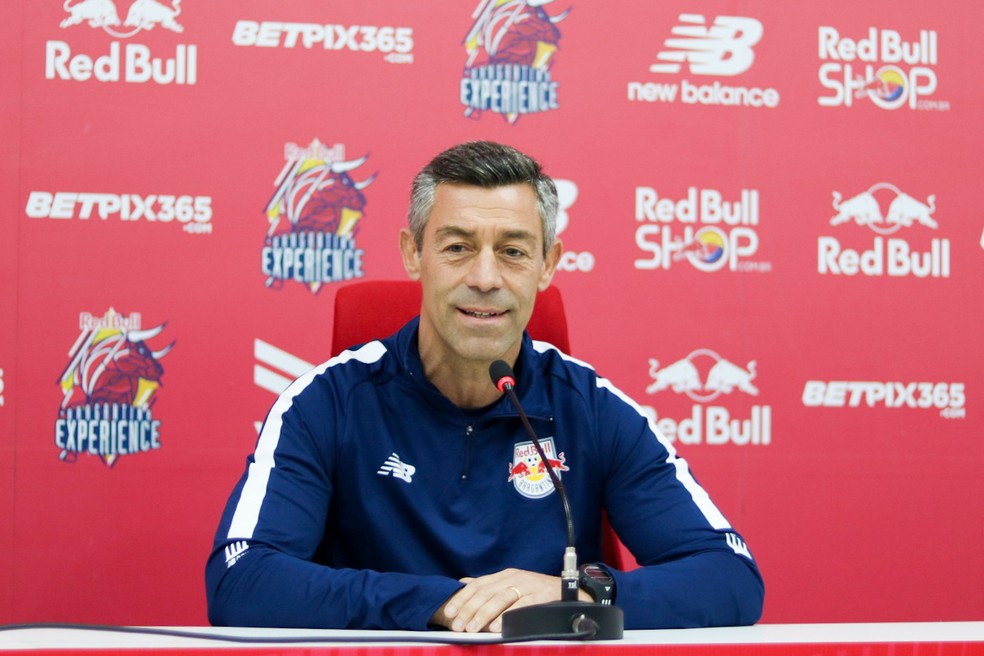 Image: Danilo Sardinha/GE
Pedro Caixinha's Career
Like a considerable number of coaches, Pedro Caixinha began his relationship with football as a player.
As a player, Caixinha was modest and played for clubs of little prominence in Portugal, including Desportivo Beja, Penedo Gordo, Serpa, Favaios, and Ourique.
He ended his playing career at just 28 years old and, in the same year, began his journey as a coach. He started by coaching the youth teams of Desportivo Beja, a team he had played for.
He then moved to Vasco da Gama (Portugal), where he stayed for a year.
His career took a different turn after forming a great partnership with José Peseiro, a well-known Portuguese coach.
From 2004, Pedro Caixinha's journey took a leap as he became Peseiro's assistant coach during their time at Sporting (POR).
Their partnership lasted until 2011. During their time together, they worked at Al-Hilal (SAU), Panathinaikos (GRE), Rapid Bucharest (ROM), and the Saudi Arabian national team.
Then came the time for Caixinha to breathe different air and go out on his own. He returned to Portugal to take over as the head coach of União Leiria. Although he had gained experience and good tactical ideas, being the main voice in charge of a team is a different story.
His first coaching experience was not very positive in terms of results with União Leiria. He managed 36 games with 9 wins, 9 draws, and 18 losses.
Image: Reproduction União Leiria
Pedro Caixinha didn't let this deter him, and he moved on to his next job. He chose the modest CD Nacional from Madeira, the hometown of Cristiano Ronaldo.
Here, his style of play started to develop, and the results began to show. He stayed in Madeira for one season, winning 15 games, drawing 8, and losing 12.
He had to cross the Atlantic Ocean to experience being a champion as a professional coach. He landed in Mexico in 2013 to coach Santos Laguna.
The connection between Caixinha and the club was instant, and their work was successful. He spent 956 days in charge, winning the Clausura Mexicano and the Copa Apertura in the 2014/15 season.
His next challenge was at Al-Gharafa (QAT), not necessarily due to the level of competition but mainly because of the financial terms involved in the move. Caixinha had reached a considerable status after his previous successes.
In the following years, he also coached Rangers (SCO) and returned to Mexico, where he felt at home. The team this time was the traditional Cruz Azul, where he also won the Copa Clausura Mexicana title in the 18/19 season.
He even returned to Santos Laguna, where he had previously succeeded, but it didn't go well. He stayed there for only 8 games before transferring to Talleres in Argentina.
Once again, the results didn't go as expected. However, improvement might be found in his next job. That's what happened on January 1, 2023, when Pedro Caixinha took charge of Red Bull Bragantino.
Image: Imago7
Pedro Caixinha's Red Bull Bragantino
Demonstrating himself as a true student of the game, Pedro Caixinha didn't need much time to adapt to Brazilian football.
In an environment where constant coaching changes and the pursuit of immediate results are a reality, the Portuguese coach could rely on the good organizational structure of Red Bull Bragantino, combined with young and promising players at his disposal.
It's also important to note that the pressure at a club like Braga is different from that at the big Brazilian clubs. RB Bragantino plays at Nabi Abi Chedid Stadium, which has a capacity for 15,000 fans but rarely reaches full attendance.
This gave Caixinha the time, human resources, and patience from a focused board to develop his work.
For example, in the Campeonato Paulista, the first challenge of the year, Massa Bruta reached the semifinals but was defeated in a penalty shootout by Água Santa, a team with much lower investment.
In the Copa Sulamericana, they performed well in the first phase but were once again defeated in a penalty shootout in the round of 16 by fellow countrymen América-MG.
Now, when it comes to the Brazilian Championship, the numbers are different. Let's look at them.
They have played 24 games so far, with 11 wins, 9 draws, and only 4 losses, totaling a 58.3% win rate and a surprising 3rd place in the standings. To achieve these results, Red Bull Bragantino scored 33 goals and conceded only 21, maintaining a positive goal difference of 12.
Most of the time, good results are accompanied by supporting statistics. Therefore, we have gathered some data from the Sofascore platform to demonstrate how Caixinha's team is capable of being incisive and overwhelming the opponent.
Red Bull Bragantino leads the Brasileirão in the following categories:
Possession won in the attacking third (175)
Tackles and interceptions (451)
Clean sheets (13)
Shots per game (16.4)
Fewest shots faced per game (10.9)
Actions in the opponent's box (584)
From these numbers, we can make an accurate assessment of how Massa Bruta achieves its results and its main style of play.
Let's start with the defense. Goalkeeper Cleiton, who in the past, including earlier this season, struggled with frequent mistakes, has now found greater confidence and has been performing well.
At right-back, 21-year-old Ecuadorian Juan Hurtado. Red Bull Bragantino scouts South American talent well, bringing in young players who fit specific roles within the team's system. Hurtado serves as excellent support for the defensive system, as the other side features Juninho Capixaba, a player who contributes more in attack than defense.
Hurtado possesses physical strength and tactical understanding, allowing him to cover any spaces left open, always in sync with the central defenders.
The central defense partnership consists of Léo Ortiz and Realpe, although Luan Patrick has been heavily relied upon due to Ortiz's frequent injuries.
Léo Ortiz is, in our view, an extremely underrated center-back in Brazilian football. He's responsible for organizing the defense, making perfect reads regarding offside lines, space coverage, and team compactness. He also has excellent ball-playing ability, attacking spaces to beat the first line of the opponent's press and venturing forward cautiously, creating opportunities for RB Bragantino.
On the other hand, Realpe, another young Ecuadorian, relies on his physical strength and defensive prowess. He averages 4.8 ball recoveries per game. He needs to pay attention to his disciplinary record, which is a topic of discussion within the club but is being addressed by Caixinha.
Luan Patrick is a direct substitute for Léo Ortiz and has been having a great season. He shares similar traits with Ortiz, ensuring that the team maintains its style and complements Realpe or Natan (who was sold to Napoli).
Now, the standout player of the team, Juninho Capixaba. His season as the left-back for Massa Bruta is nothing short of spectacular. He possesses rare technical quality and game intelligence. In Caixinha's system, he moves into the center of the field both in the build-up and during the second phase of construction in midfield. He can find passes, and his constant movement confounds the opposing defense.
Another way to disrupt the opponent's defensive line is through dribbling. In the final third of the field, when he becomes an option, he takes on defenders and serves the wingers, putting them in positions to assist the players coming from behind and Eduardo Sasha.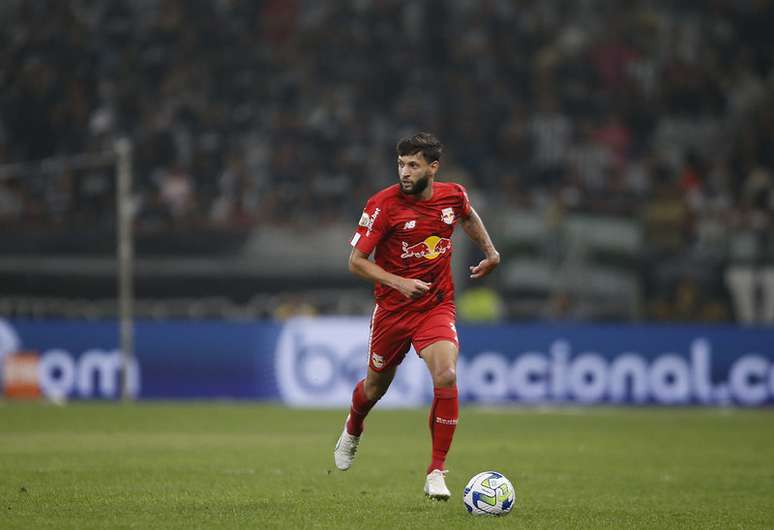 Image: Ari Ferreira/Red Bull Bragantino / Jogada10
The midfield trio consists of Jadsom, Matheus Fernandes, and Lucas Evangelistas. The three players have excellent synergy. They have complementary characteristics due to their time playing together and a prominent similarity: their passing quality.
Jadsom plays in front of the defense, providing necessary protection. However, he doesn't shy away from participating in the game and often initiates the team's build-up, alongside Capixaba.
Matheus Fernandes, on the other hand, is a physically robust player. In addition to his defensive duties, he excels in the left corridor, covering long distances and carrying the ball to break lines, especially in RB Bragantino's counter-attacks.
Lucas Evangelista is a more technically oriented player. He's a significant contributor to the team with 5 assists in the Brasileirão. He likes to enter the box and dictate the tempo of the game when needed.
The attacking trio varies quite a bit, either due to injuries or to adapt to Massa Bruta's playing style against a specific opponent. In the last game, for example, when RB Bragantino defeated América-MG, the starters were Matheus Gonçalves, Vitinho, and Alerrandro.
Matheus Gonçalves, only 18 years old, was signed from Flamengo. What a great acquisition. He's an extremely skillful and effective player. He should earn a starting spot and relegate Sorriso to the bench, who is a good player but not as incisive as young Matheus.
On the other side, the regular starter would be Henry Mosquera. Another Ecuadorian on the squad. The 21-year-old has incredible speed and acceleration, along with a veteran's personality. He takes on opponents with skill in one-on-one situations and isn't afraid to take shots on goal.
The goal-scorer is Eduardo Sasha, an experienced player who knows how to find the back of the net and provides composure to the younger players.
Lastly, to reinforce the numbers presented above, Red Bull Bragantino, under Pedro Caixinha's leadership, plays in a 4-3-3 formation. Although widely used, this formation features variations that make the team lethal and play an attractive style of football.
The team aims to break the first two lines of the opponent's defense with high-quality and unpredictable build-up play, whether from the center-backs or Capixaba and Jadsom. As a result, the team moves as a unit, so when the wingers are involved, they find not only the full-backs making overlapping runs but also the three midfielders arriving in the box as a surprise element.
If they lose possession, they try to win it back quickly. When that's not possible, the team drops back as a unit and prepares for a rapid counter-attack.
What's worth noting here is the team's ability to maintain compactness and execute positional variations seamlessly.
If the performances continue, Red Bull Bragantino should secure direct qualification for the Copa Libertadores. It's a tremendous achievement for the formerly modest team from São Paulo's interior.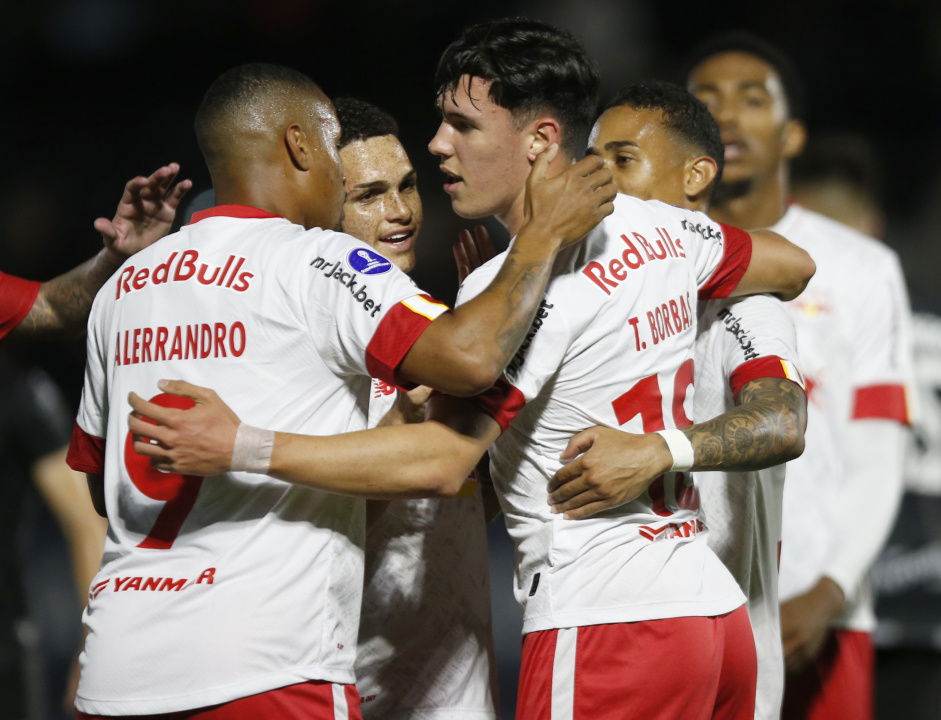 Image: Ari Ferreira / Twitter Red Bull Bragantino
Follow us on social networks to stay updated on the latest foreign football news and exclusives: Instagram, Facebook e Twitter.
Written by Vitor F L Miller.