Marcos Braz, Vice-President of Flamengo and a city councilor in Rio de Janeiro, was caught on camera assaulting a fan along with his security personnel in a shopping mall.
Follow along as we provide the latest updates on the investigation and the preceding events that have made life at Flamengo increasingly tumultuous.
Image: Circulated on Social Media
Marcos Braz Assaults Fan
Marcos Braz, Vice-President of Flamengo and city councilor in the "Marvelous City" of Rio de Janeiro, was caught on camera assaulting a fan at Barra Shopping on Tuesday, September 19, 2023, around 5:00 PM.
A video of the incident began circulating on social media shortly after, showing a young man on the ground being kicked by three burly individuals.
The video clearly implicates Marcos Braz, who appears to rise to his feet and celebrate the "accomplishment."
The act of violence inside a shopping center would have already caused a significant commotion among shoppers, especially considering that it involved a public figure associated with Brazil's most popular football club and an elected government official.
As a result, bystanders who witnessed the incident surrounded Marcos Braz and his security personnel. To avoid a potential altercation, they took refuge in the store where the VP had been before the altercation.
The store's doors remained closed until the police arrived to escort Braz. This process reportedly took about 1.5 hours, according to witnesses.
During this time, dozens of fans gathered, waiting for the Vice-President to exit the store, and they collectively chanted insults at the councilor.
Marcos Braz was then taken to the 16th Police Precinct in Barra da Tijuca, where he provided a statement.
The fan who was assaulted, Leandro Campos da Silveira Gonçalves Junior, went to the hospital for a forensic examination.
According to Braz, he was shopping at the mall to buy a gift for his daughter, who was celebrating her 15th birthday that day when he was approached by three men who identified themselves as members of a Flamengo organized fan group.
He claimed that the fans not only verbally insulted him and his daughter but also threatened his life.
At that point, he and his security personnel reportedly confronted the individuals, with Leandro Campos da Silveira Gonçalves Junior being the primary target, to ensure the safety of Braz and his daughter.
The victim, on the other hand, maintains that he only asked the VP to leave, and as he turned to continue on his way, he was attacked by Braz and his security personnel. He also alleges that during the scuffle, Braz bit his groin, leaving a serious injury and visible marks in the area.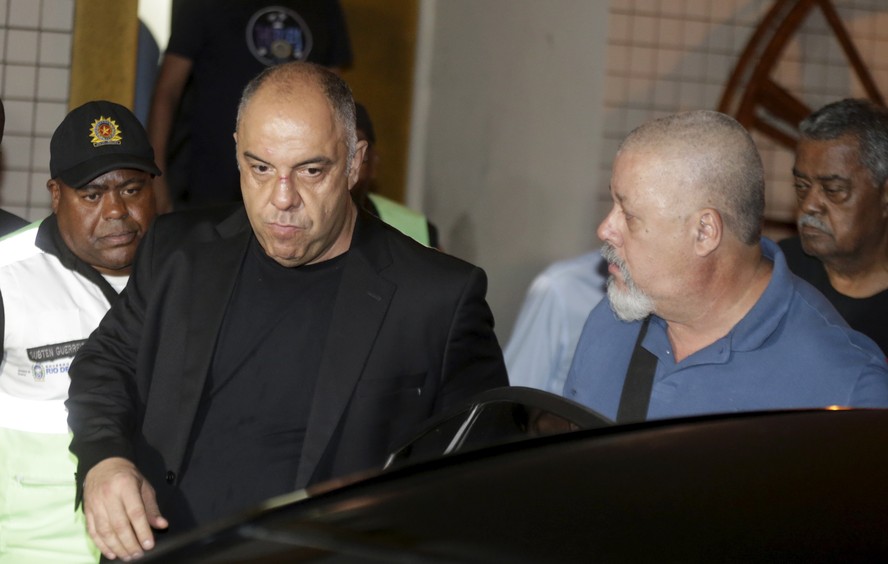 Image: Domingos Peixoto
According to the investigating police officer, witnesses and those involved were interviewed, and the information will be further investigated, with a conclusion on the case expected soon.
One particularly curious detail should be noted here. Marcos Braz, as previously mentioned, is a city councilor in Rio de Janeiro. According to the Municipal Chamber of Rio de Janeiro, the councilor's attendance at the session scheduled for that day was marked as "online presence."
However, it's important to clarify that to be considered "present" in the session, councilors must be physically present. As a result, Marcos Braz's name was marked with a question mark (?) in the session's records: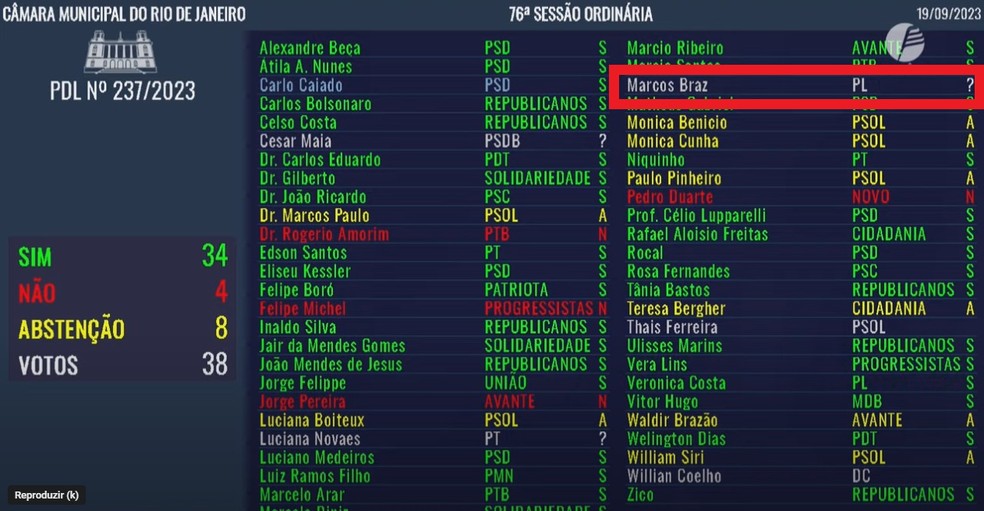 Image: Municipal Chamber of Rio de Janeiro's panel on Tuesday (19) — Photo: Reproduction
Did Marcos Braz skip a council session to go shopping for his daughter?
Violent History at Flamengo
In a previous report, Calcio Deal covered the deplorable incident at Flamengo in which the club's center forward, Pedro, was assaulted with a punch to the face by the team's fitness coach, Pablo Fernandéz.
Since that incident, tensions between the squad and manager Sampaoli, already strained, have become unbearable.
But that's not all. Amid this tense atmosphere, midfielder Gerson got into an argument with fullback Varella. In the heated exchange, Gerson delivered a powerful punch to Varella's nose. There were rumors of a possible nose fracture, although it was not confirmed. Nevertheless, in the following match, Varella took to the field with a severely swollen and bruised nose.
Marcos Braz has also clashed with players. It is rumored that he had a heated exchange with Gabigol, one of the club's greatest idols. According to sources, Gabigol complained about the poor state of the Maracanã pitch, to which Marcos Braz allegedly responded that if he wanted to play on good pitches, he should move to Europe. He also reportedly asked Gabigol, "What did you achieve in Europe?" (Gabigol had stints with Inter Milan and Benfica before returning to Santos and later transferring to Flamengo).
The mounting tension surrounding Flamengo continues to grow. The team, which boasts the best squad in the Americas, has failed to win a single trophy throughout the season, prompting widespread outrage among fans.
Supporters have voiced their complaints about poor on-field performance, eliminations, and the club's perceived elitism.
As previously reported, fans have protested against high ticket prices, which saw Flamengo collect over R$ 26 million from the Copa do Brasil final. In other words, ticket prices were extraordinarily high.
According to reports from Flamengo employees, the only chance for the club to win the Copa do Brasil (having lost the first leg to São Paulo at Maracanã 0-1) would be the departure of coach Jorge Sampaoli, as not only players but the entire staff cannot tolerate his presence at the helm of the team.
Will Marcos Braz face sanctions? Will Sampaoli be fired? Will Flamengo win? Share your thoughts!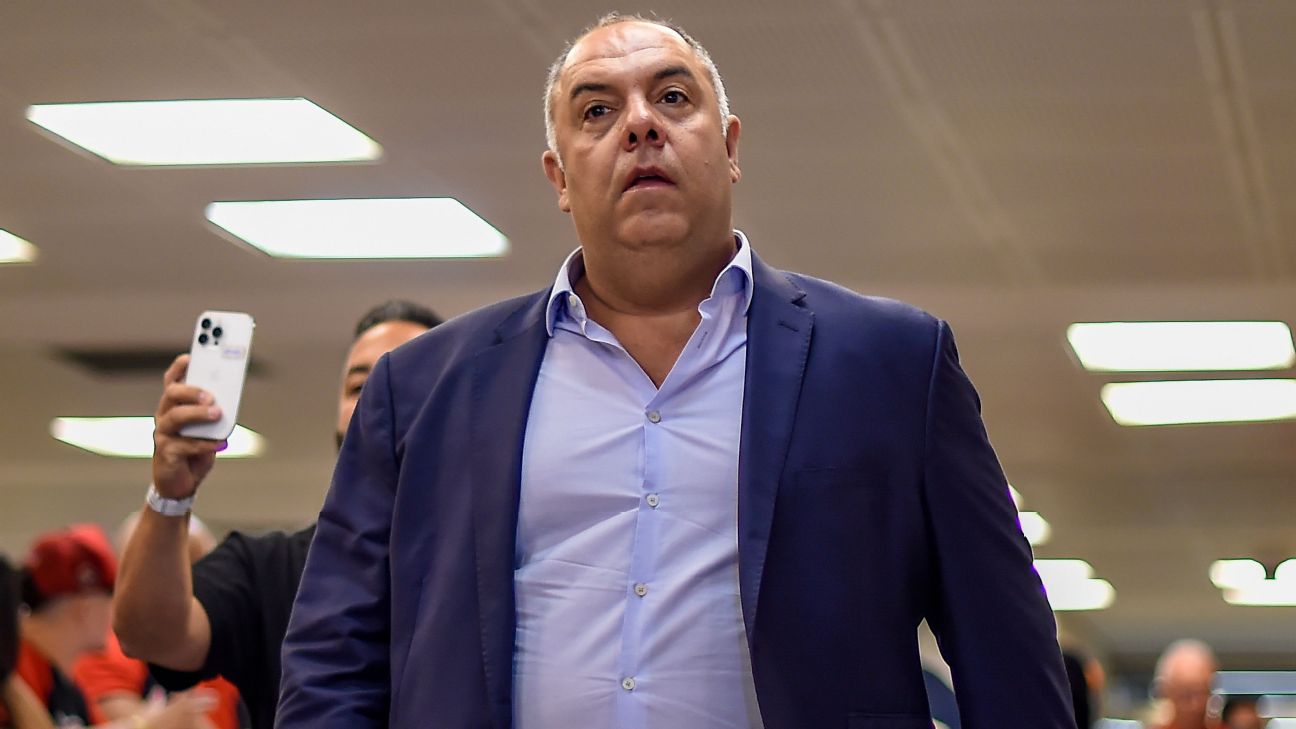 Image: Marcelo Cortes / Flamengo
Follow us on social networks to stay updated on the latest foreign football news and exclusives: Instagram, Facebook e Twitter.
Written by Vitor F L Miller.