His name is widely known. Zidane is a title-winning machine, whether as a player or a coach. Let's take a look at one of his most remarkable records, when he won the Big Eared trophy three times in a row, a feat never before seen in football history.
Most Consecutive Champions League Titles: Zidane (3 consecutive titles)
Zinédine Yazid Zidane, or simply Zidane, was born in Marseille, France, on June 23, 1972.
Like a significant portion of the French population, Zidane's family has Algerian origins. Algeria was a French protectorate until 1962.
An arduous 8-year-long war resulted in Algeria's independence. This event led to an exodus towards France.
Zizou's family was no exception. The Zidanes moved to the south of France, to Marseille.
There, young Zidane began his career as a player, starting out as an amateur at Victório Mello Football Club and later at Septèmes-les-Vallons.
But it was at Cannes where Zidane made his mark on the world. He played 71 matches and scored 6 goals for the club from 1988 to 1992.
Image: (MAXPPP)
His next destination was Bordeaux, where he played from 1992 to 1996. In France, he couldn't win titles, which only happened in 1996, but with Juventus.
From 1996 onwards, he started accumulating titles. He was part of an incredible Juventus team that included his compatriot Deschamps, Vieri, and Del Piero.
From 1996 to 2001, at Juventus, he won Serie A twice, the FIFA World Cup once, the UEFA Super Cup once, and the Italian Super Cup once.
In 1998, on home soil, he brought the first World Cup title to France, scoring a goal in the 3-0 victory over Brazil.
In the same year, he was named the world's best player by FIFA and France Football.
Image: Pintrest
In 2000 and 2003, he also received the FIFA World Player of the Year award.
From 2001 until the end of his career in 2006, he played for Real Madrid, where he won the Champions League, La Liga, the Club World Cup, the Spanish Super Cup twice, and the UEFA Super Cup.
In 2006, he reached the World Cup final once again, but the end of his brilliant career didn't go as expected. In the match against Italy, the moment that showcased his composure and genius was a chipped goal against Buffon.
However, he succumbed to provocations from Italian defender Materazzi and ended up headbutting his chest, leading to his expulsion. The match ended 1-1, and Italy won their fourth World Cup title in the penalty shootout.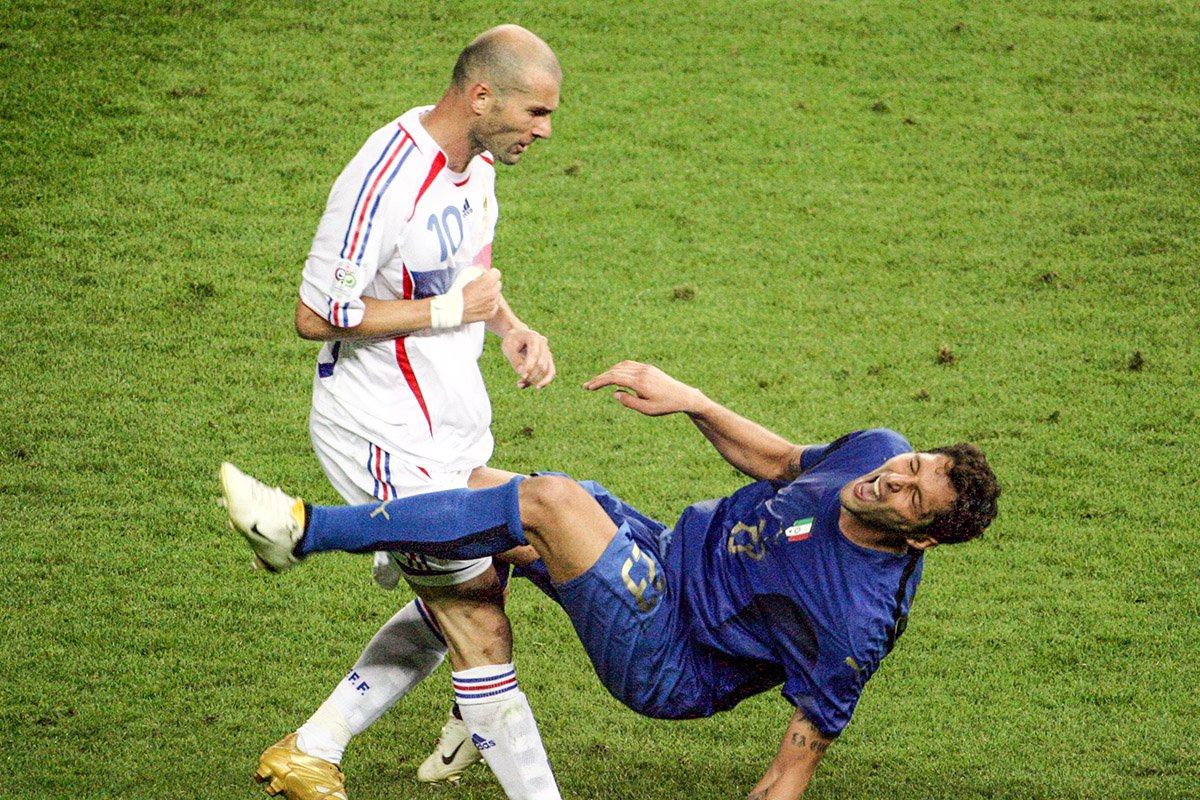 Image: John Macdougall/Getty Images
A player with such intelligence could only become an exceptional coach.
He began his coaching career in 2016 at Real Madrid, the club where he had already made history as a player.
Zidane took over the position midway through the 2015-2016 season, replacing Rafael Benítez, and quickly gained the trust of an extraordinary group that included Sergio Ramos, Cristiano Ronaldo, Marcelo, Modric, Kroos, Casemiro, among others.
The Frenchman seemed to adapt to the role quickly. His game intelligence allowed him to devise an almost infallible strategy.
Zizou achieved an unprecedented feat, becoming the first and only coach in history to win three consecutive Champions League titles in the 2015-2016, 2016-2017, and 2017-2018 seasons.
In the 2015-16 season, Real Madrid topped the group with 16 points. In the knockout stages, they defeated Roma, Wolfsburg, and Manchester City.
In the final against rivals Atlético Madrid, they took the lead with a goal from Sergio Ramos. However, Carrasco equalized at the 79th minute.
In the penalty shootout, Real's kicks were flawless, while Juanfran missed for Atlético. Real Madrid claimed their eleventh title.
In the 2016-17 season, Borussia Dortmund finished first in the group, followed by Real Madrid.
In the knockout rounds, they dispatched Napoli, Bayern Munich, and Atlético Madrid. Against Juventus, it was a showcase. The Merengues handed out a resounding 4-1 thrashing.
Could Zidane and his team achieve what no other club had done? The answer is "yes."
Real Madrid finished second in their group, behind Tottenham. In the knockout rounds, the Merengues truly shone. They overcame PSG, Juventus, and Bayern Munich.
The final against Liverpool was historic. A 3-1 victory with a spectacular bicycle kick goal by Bale.
That's how Zinedine Zidane became the only coach to win three consecutive Champions League titles.
It's worth highlighting the incredible contribution of the Mr. Champions, Cristiano Ronaldo, who was essential in all these triumphs.
Image: FRANCK FIFE / AFP
Moreover, with these accomplishments, the French Maestro set another record: he became the only person to win the Champions League as a player, assistant coach, and head coach.
Follow us on social networks to stay updated on the latest foreign football news and exclusives: Instagram, Facebook e Twitter.
Written by João Felipe Miller and Vitor F L Miller.