Jude Bellingham has been doing the impossible and exceeding the already extremely high expectations set for him.
Join us for an analysis of his performance, as well as the stats of the young midfielder who wears the legendary number 5 jersey for Real Madrid.
Jude Bellingham's Numbers for Real Madrid
The Birmingham boy arrived at Real Madrid at the beginning of the 2023/24 season.
Before any comments, it is necessary, once again, to highlight the quality of Borussia Dortmund's scouting department, which identified the player when he was still very young and brought him from England to Germany in 2020 when he was just 17.
Image: The Sun/ Getty Images
Dortmund paid around €30 million for a player of his age, which would be a high-risk investment, especially considering his youth and the fact that his youth club was Birmingham, which doesn't compete against the world's top teams. However, this wasn't the case with Jude Bellingham.
Rumors behind the scenes suggest that Bellingham fulfilled his childhood dream by joining Real Madrid. The realization of this dream is reflected in his performance on the field.
Wearing the club's legendary number 5 jersey, which once belonged to Zinedine Zidane, one of the greatest in football history, he feels at home. He quickly bonded with his teammates, many of whom are of similar age and interests.
So far, he has played 6 games for the Merengues, with 5 in La Liga and 1 in the Champions League.
Yes, the young man has scored 6 goals and provided 1 assist in these 6 games. In simple math, this means he has an average of one goal per game.
Carlo Ancelotti, one of the greatest coaches to have graced the pitch, knows how to identify the strengths of certain players and bring out their best game. With Bellingham, it was no different.
During his days at Borussia Dortmund, he played as an attacking midfielder, but the Mister saw qualities in the 20-year-old that made him unleash his goal-scoring ability.
Partly due to Vinicius Jr's injury at the start of the season, Ancelotti set up a midfield trio with Camavinga, Tchouameni, and Modric. Bellingham would have had to compete for a spot with these players in a previous scenario.
However, Carlo Ancelotti pushed Bellingham forward to play as an attacking midfielder, supporting Rodrygo and Joselu.
The playing system fit perfectly. The mentioned midfield trio, with a lot of physical vigor, can both defend and attack, especially down the flanks, creating a numerical advantage when Bellingham and Rodrygo move to the sides of the field where the ball is.
As a result, Bellingham frequently enters the box with great intelligence, clever positioning, and precise finishes, and he continues to score goals in every opportunity.
According to Sofascore, in La Liga, he has the highest rating in the squad (8.3) and an astonishing pass accuracy of 89%, along with an 88% success rate in plays.
Finally, he has an average of 2.4 shots per game, and as mentioned, with an average of one goal per match, it's clear how accurate he is when finishing, knowing exactly when to shoot on goal.
Another interesting fact is that he joins the select group of players to score goals in their debuts in both La Liga and the Champions League in this century. The players are Cristiano Ronaldo, Isco, Asensio, and now Jude Bellingham.
That's not all. He is the only player to score in his first 4 consecutive games since Cristiano Ronaldo did it for Real Madrid.
Ver essa foto no Instagram

Most importantly, the young man's appetite doesn't seem to diminish. Goals and plays continue to happen naturally, showcasing his strong personality and how he approaches the game, as some of the goals, like his recent one in the Champions League, were scored in the final moments of the match.
Carlo Ancelotti and Florentino Perez's Vision
There are many examples in club football where teams weren't prepared for a new cycle after the departure or retirement of great winning stars.
For example, we have Santos with Pelé, which went through years without competitive teams after the king's era ended.
São Paulo, after Lucas Moura's departure, is another example, and they might win a major title again this year, 11 years after winning the Copa Sudamericana.
There's also Napoli after Maradona and Careca left. Examples abound.
With Real Madrid, it seems different. The generation that won five consecutive Champions League titles, featuring Casemiro, Kroos, Modric, Cristiano Ronaldo, Benzema, and Bale, gradually left the club, either seeking new challenges or due to their advancing age.
However, Florentino and Ancelotti had a plan. Since 2018, the evergreen Madrid president observed this shift and started planning for the long term with young players.
Many of them were directly brought from their youth academies, making the prices paid seem like bargains, especially considering the results they have already achieved.
In 2019, Real Madrid went to Brazil and brought the two most promising players of their generation. Rodrygo, at 17, already showed he could become what he has become, and Florentino paid €45 million to Santos.
The same goes for Vinicius Junior, who moved to Spain a year earlier. One of the best players of his generation, Vinicius was bought from Flamengo for the same amount, at just 18.
This spectacular duo, when they were 20 and 21, were already instrumental in winning another Champions League title for Real Madrid.
Image: Divulgação
Just for comparison, Chelsea paid nearly three times the amount for Enzo Fernandez as they did for Vinicius Junior.
They were not the only ones. Camavinga, a master of versatility, was bought from Rennes in 2021 for only €31 million.
Tchouameni, on the other hand, was more expensive than the others, with a fee of €80 million. This was largely due, as mentioned above, to his transfer from Bordeaux to Monaco, before being acquired by Real Madrid.
In Europe, the gradual rise of players through the ranks leads to inflated transfer fees.
Having "saved" money with the aforementioned players, Ancelotti and Perez decided to top it off by bringing in Jude Bellingham for €103 million.
Let's observe how a club's planning generates absolutely incredible results. Experienced and celebrated players are gradually passing the torch to the younger ones. In other words, the young talents are not signed and thrown into the deep end to solve matches for the world's biggest club.
Instead, they are slowly introduced into the club's daily life, learning the culture and playing style of Real Madrid. This is done under the supervision of their mentors, who guide them not only in their career paths but also on the field.
Now, Real Madrid doesn't need to panic. They have human resources for the next 10 years, easily.
Do you believe the Merengues can win another Champions League this year?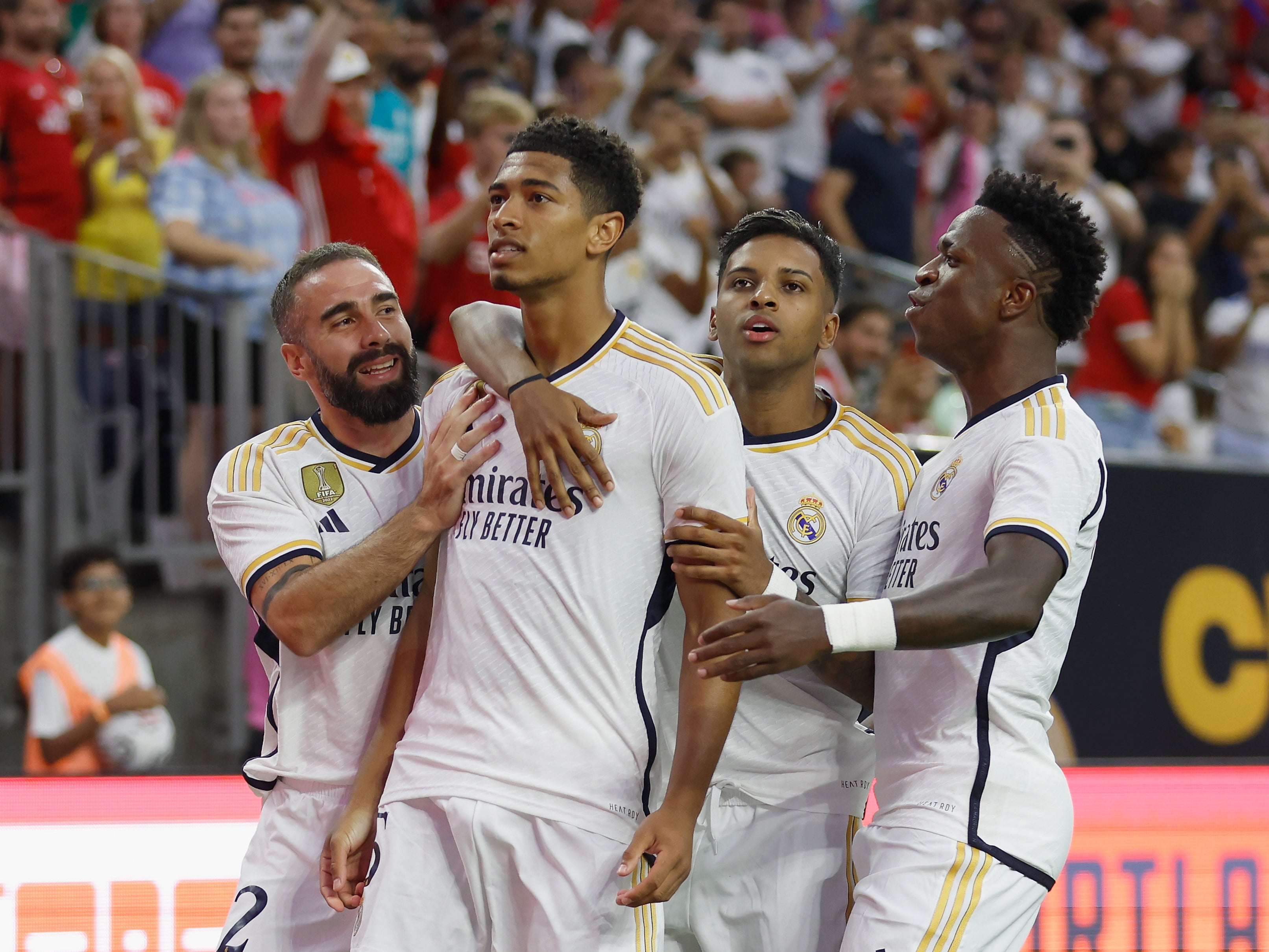 Image: Getty Images