Carlo Michelangelo Ancelotti is one of the greatest active coaches in world football. Carlo is known for his calm leadership, strong affinity with the players he manages, and the efficient style of football that his teams play.
Learn how Ancelotti achieved the feat of being the coach with the most Champions League titles.
Most Champions League titles: Carlo Ancelotti (4 titles)
Carlo Michelangelo Ancelotti was born on June 10, 1959, in the small town of Reggiolo, located in the Emilia-Romagna region of Italy.
Ancelotti played as a midfielder during his playing days and was part of historic teams such as Roma, who won the Scudetto in the 1982-1983 season, and the legendary Milan, who won back-to-back Champions League titles in the 1988-1989 and 1989-1990 seasons, alongside legendary players like Paulo Roberto Falcão, Baresi, Van Basten, Gullit, among others. Additionally, Carletto was a key player for the Italian national team.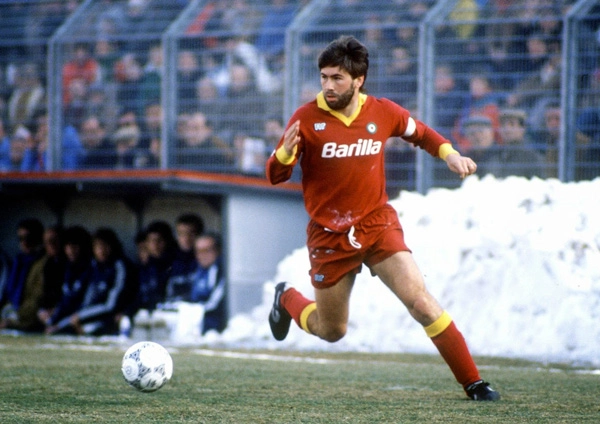 Photo: Divulgação
His playing career equipped him to understand the game uniquely and to lead star-studded squads.
His coaching career began three years after retiring as a player. In 1995, he coached the modest AC Reggiana, then moved on to Parma and later Juventus, where he paved his way to European titles, including winning the UEFA Intertoto Cup in 1999, a precursor to the current Conference League.
His first Champions League trophies as a coach came with the legendary Milan of the 2000s, in the 2002-2003 season (against Juventus, the only team where Carlo had won a European trophy at that point) and the 2006-2007 season, coaching iconic players like Maldini (his former teammate at Milan during his playing days), Rui Costa, Kaka, Shevchenko, Dida, Inzaghi, Cafu, Gattuso, Pirlo, Seedorf, Nesta, among others.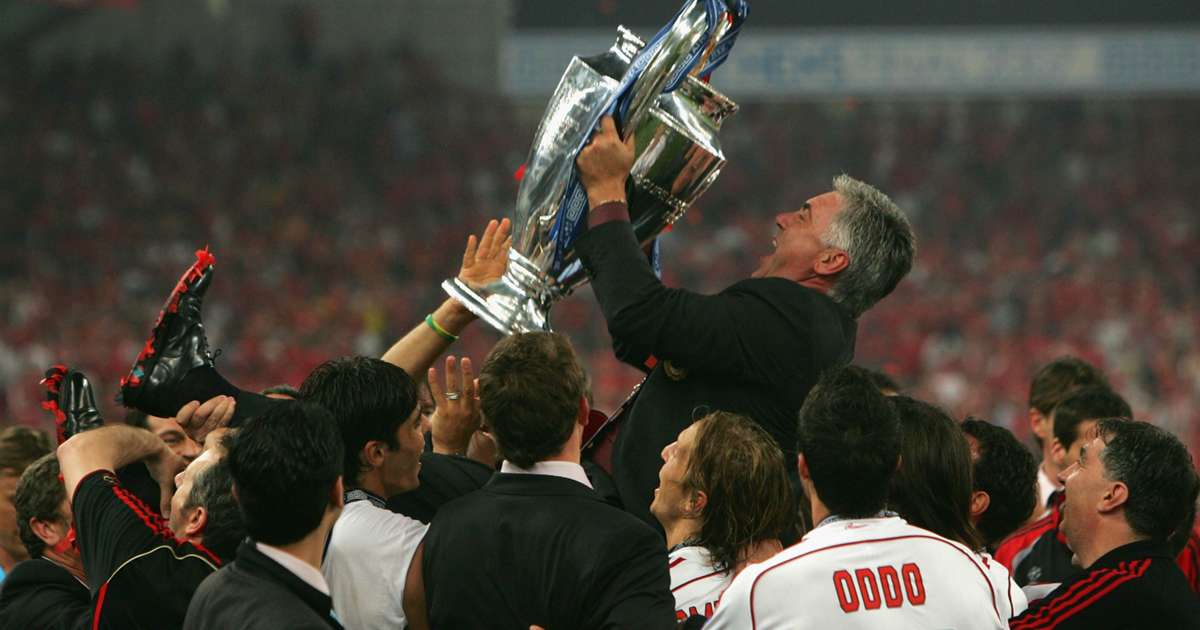 Photo: Divulgação
After eight years at Milan (2001 to 2009), Carletto left as one of the top coaches of the era. He had interesting stints with Chelsea and PSG, winning domestic titles, but it was at Real Madrid that he reached the pinnacle of European football once again.
In 2013, he was hired by Real Madrid after a difficult negotiation. Carlo was tasked with getting the best out of stars like Cristiano Ronaldo, Modric, Casillas, Sergio Ramos, and Di Maria.
His friendly yet firm demeanor was a perfect fit for Los Merengues, who won the 2013-2014 Champions League against their Madrid rivals, Atletico Madrid.
The following season, Carletto was let go. He then headed to Germany to coach the mighty Bayern Munich. There, he led the team to play exceptionally well and win numerous titles, but the Champions League trophy remained elusive.
After Bayern, he also coached Napoli and Everton before returning to Real Madrid.
And how perfect is the combination of Ancelotti and Real Madrid? At the start of the 2021-22 season, he was announced as the new coach, facing another star-studded squad, this time without CR7 but with Benzema, Modric, Kroos, and Casemiro, who formed the backbone of the team, alongside the youth and potential of Vinicius Junior, Eder Militao, Valverde, Rodrygo, and Camavinga.
Once again, his way of being, relating to others, understanding their anxieties and needs, his unique approach to problem-solving, and bringing out the best in each individual within his team led him, along with Los Merengues, to win the Champions League once again, making him the only coach to lift the trophy 4 times.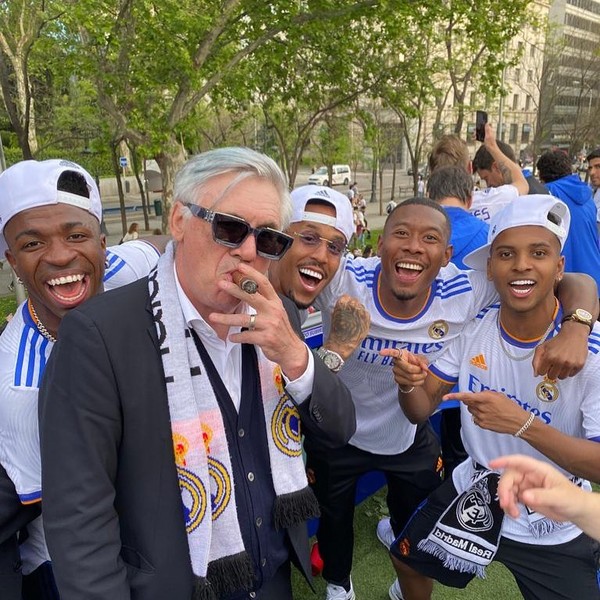 Photo: Instagram
List of the Greatest Champions League Winners:
Carlo Ancelotti – Milan (Italy) 2003-2004 and 2006-2007; Real Madrid (Spain) 2013-2014 and 2021-2022 (4 titles)
Bob Paisley – Liverpool (England) 1976-1977, 1977-1978, and 1980-1981 (3 titles)
Zinedine Zidane – Real Madrid (Spain) 2015-2016, 2016-2017, 2017-2018 (3 titles)
Pep Guardiola – Barcelona (Spain) 2008-2009 and 2010-2011; Manchester City (England) 2022-2023 (3 titles)
Follow us on social networks to stay updated on the latest foreign football news and exclusives: Instagram, Facebook e Twitter.
Written by João Felipe Miller.